Sericulture: The Secret Of Silk Making And The Benefits Of Silk Making
Published on Jan 7th, 2022
Many myths and stories exist, and some people still are unaware of the exact origin of silk. Silk is produced from the pupa of silkworm, yes! Many might think how a pupa could produce silk thread, here is the answer: the pupa continuously spins its head and forms a shell around it known as the cocoon which when comes in contact with air gets solidified and a silk thread which is the most valuable is formed.
Cocoons usually are hard in nature and undergo several processes to get converted into silk thread. The cocoons need to be soaked in water in order to make them soft before extracting the thread, the extraction process is called reeling which is done using Charkha or power-driven automated or semi-automatic reeling devices, however traditionally charkha is used for reeling.
The silk thus reeled undergoes various processes like dyeing, spinning, and warping to finally set into a loom. Women make up more than an hour of the workforce in down-stream sericulture operations across the country.
Sericulture is majorly practiced in five states of India including, Tamilnadu, Karnataka, Telangana, West Bengal, Assam and Arunachal pradesh.
Benefits of Sericulture
An estimated cost of Rs. 12000 to 15,000 would be sufficient for mulberry cultivation and silkworm rearing in one acre of land excluding land and the space of rearing.
Silkworms usually feed on mulberry leaves, it takes only six months for the mulberry plant to grow to the point where silkworms can be reared, and supports upto 20 years after planting depending upon the inputs supplied.
It is possible to harvest five harvests in a single year and farmers can achieve an income of upto Rs. 30000 per acre providing proper inputs. It is estimated that 60 lakh people are to be involved in sericulture activity.
In sericulture for every kilogram of raw silk produced it is estimated that 11 days manpower is required. Sericulture helps in rural reconstruction thus helping in providing employment to rural people to a large extent which no other sector would afford to.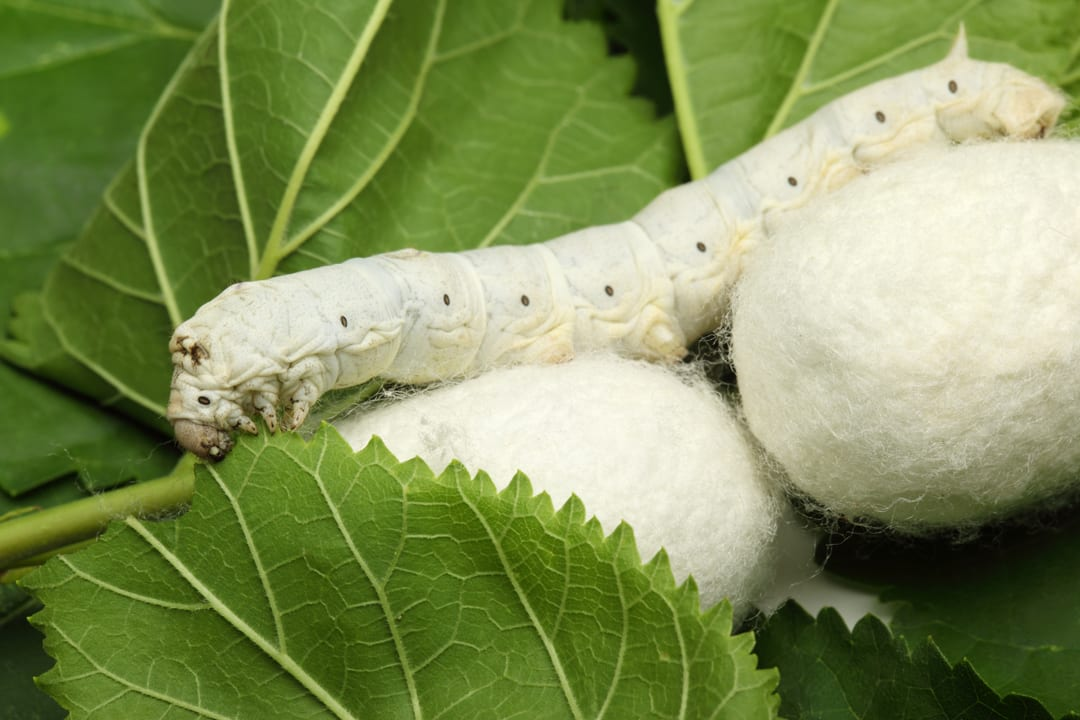 Silkworm larvae along with cocoons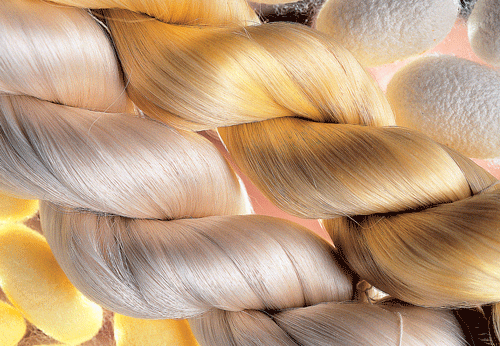 Silk threads extracted after reeling of cocoons
Eco-friendly Activity:
Mulberry plant is a perennial crop which helps in conservation of nature and provides green cover.

Silkworm wastes can be recycled and used as the plant fertilizer.

The use of dried mulberry twigs and branches as fuel instead of firewood reduces the impact on vegetation and the forest.

Mulberry plantation development programmes are mostly implemented in highland locations where underutilized cultivable land is turned into productive land.

Intercropping is also possible with a variety of plantations.

It may be grown on unoccupied spaces, steep slopes, and watershed areas since it is a deep-rooted perennial plant.
Further there exists many private networks which supply essential inputs for silkworm rearing to the farmers, in addition these private centers collect cocoons directly from farmers and help in developing market linkages.
In addition, Under the ministry of textiles many policies have been put into action to support the farmers undertaking sericulture. RKVY classifies sericulture as an agricultural allied activity. This allows sericulturists to take advantage of the theme's benefits over the whole sericulture process, from seeding to reeling.
The Forest Conservation Act has been amended to include non-mulberry sericulture as a forest-based industry, allowing farmers to grow Vanya silkworms on natural host plantations in the forests.
For more information on policies related to various crop production, Download Jai Ho Kisan mobile app.