Reviving Millet Production In India To Meet Nutrition Challenge
Published on Dec 30th, 2021
The Government of India stated that millet production should be increased in the country and added in the following two years, the government will promote their cultivation through various schemes and programmes.
Millets are commonly referred to as superfoods, and their cultivation may be viewed as an approach for achieving sustainable agriculture and a healthy environment. Maharashtra, Karnataka, Andhra Pradesh, and Tamil Nadu are among the key states cultivating millets.
Sorghum (Jowar), Bajra (Pearl millet) and Ragi (Finger millet) are the three major millet crops of India. The government is now advising for reviving the cultivation of millets in India as the area under millet cultivation has come down dramatically in recent years, as most farmers in the country are focused towards the cultivation of rice and wheat.
The next two years are critical, since the United Nations General Assembly has supported a resolution based on India's proposal to expand millet production and consumption, adding to that good quality, pesticide-free millet cultivation and suitable packaging and marketing are planned.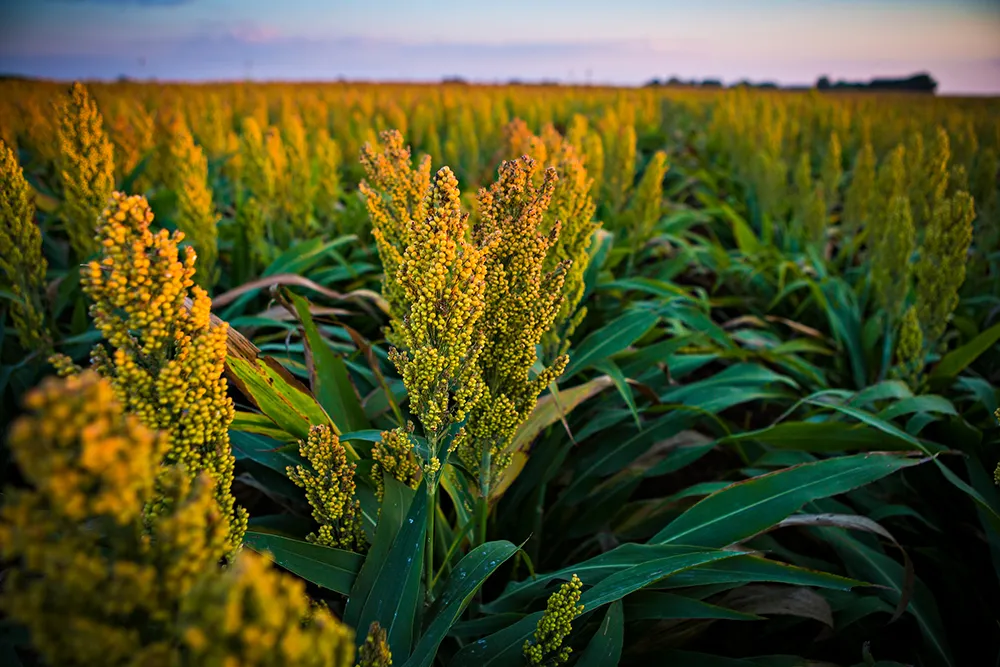 Sorghum Cultivation
The Cultivation of Millets Must be Revived Due to the Following Reasons:
As discussed millets are considered as the superfoods owing to their nutritional value which is high when compared with rice and wheat. In addition millets are less expensive
Millets are rich sources of calcium, magnesium and iron and among food grains finger millet accounts for the highest amount of calcium content. Its high iron content can help children and women of reproductive age overcome the high prevalence of anemia.
Millets, which are gluten-free and have a low glycemic index, can assist with dietary problems and health issues such as obesity and diabetes
Millets are mostly drought resistant crops with a short growing season of 70 to 100 days when compared to the growing season of paddy which is 120-150 days, the water requirement of millet crops is also less which is 350-500 mm.
Millets have proven to be a sustainable revenue source for farmers because they require little investment for production.
Challenges for Millet Cultivation
The main challenge of cultivating millets is preference for wheat, it might either be the farmers or consumers, they always tend to attract towards wheat cultivation

Increased demand for processed foods: Consumer demands for ultra-processed and ready-to-eat foods which are high in sodium content, sugar, trans-fats, and even carcinogens have increased in India resulting in less interest towards millets and allied food grains
Initiatives by Government of India for Promoting Millets
The year 2018 was considered as the national year of millets since the millets were given the name nutri cereals due to their nutritional value and the anti diabetic properties.

Increased MSP: The government has announced an increased minimum support price to encourage farmers to cultivate millets.

In order to increase marketability of millet, the government supplied seeds and inputs to farmers through farmer producer organizations (FPO'S).
Tips and Tricks of Growing Millets in India
Millets require very less effort. There are just two things to do with cultivation: go to the field and broadcast seeds, then return three months later to harvest the grains.Yes ! millets indeed are the low maintenance crops requiring very low inputs.
The millet cultivation is taken up by farmers mostly in kharif season. Farmers can expect a significant harvest if they get good rainfall at the appropriate periods; an average rainfall of 350-550 mm would be sufficient for millet cultivation.
Millets are less prone to pest and disease attack and can be used in intercrop or mixed crop cultivation without using any pesticides, millets usually are cultivated along with the leguminous crops to get desired results.
Since the quality seeds of millets are very small, care should be taken that the seeds should not be sown deeper than 2 inches (Shallow sowing).
Sowing in a uniform line would be preferred rather than broadcasting thus making the plant access to all the inputs applied. It is extremely important to encourage cultivating millets because of their climatic tolerance, short cropping length, and capacity to thrive on poor soils, hilly terrains, and with very little rain they can play an important role in supplying nutrition to individuals of all levels of income and helping climate adaptation of rainfed farming systems. For more information on cultivation of millets download Jai Ho Kisan Mobile App, Jai Ho Kisan is the digital platform envisioned to harvest a smile on a farmer's face thus providing services like crop advisory, daily market rates, information on loans and schemes and many more.