Cultivation Methods of Oil Palm for Better Yields
Published on Dec 24th, 2021
Oil palm is one of the important oilseed crops in the world to produce the highest cooking oil. It has an oil yield of 4 to 6 tons per hectare per year and is a major producer of cooking oils worldwide.
Palm oil is extracted from the fibrous part of the fruit and palm kernel oil is extracted from the kernels. Oil palm thrives well in areas like Telangana, Karnataka, Tamilnadu, Assam, Orissa, Bihar, Madhyapradesh and Arunachal pradesh.
Telangana government has opened new opportunities for the cultivation of oil palm in the state.
Soils with good drainage facilities are suitable for oil palm cultivation with a pH range of 6.5-7.5, temperature should not exceed 16-22°C. Oil palm can also be cultivated under high temperatures, as high as
34-44°C.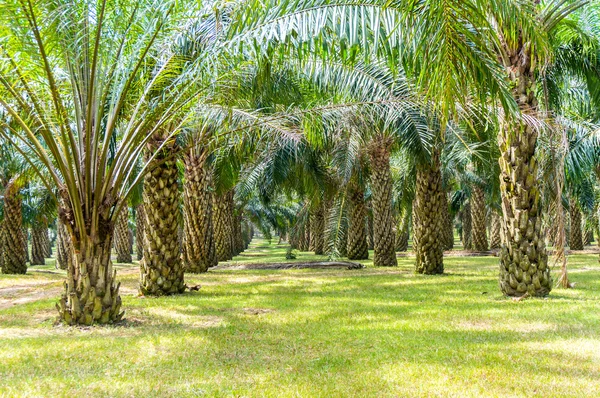 Oil Palm Cultivation
The Tenera Hybrid is the only cultivar grown worldwide which yields the highest fiber content in India.
Why Recommend Oil Palm
Oil palm has highest yields, 4 to 5 tons per hectare of land is the usual expected yield of oil palm.
The oil palm crop is hardy and is resistance to pests and diseases.
Farmers can do intercropping in the pre-bearing period and can get high returns.
Crop assures monthly income and a good market price throughout the year.
Climatic Requirements
Oil palm usually requires a temperature of 22 to 24 degrees centigrade and a sunlight of 5-6 hours per day would be sufficient, usually oil palm is an irrigated crop since Indian weather conditions do not provide uniform rainfalls.
Soil Requirements for Oil Palm
Generally oil palms thrive well in deep loam, alluvial rich soils, the soil depth should not be less than 1 meter. It is better to avoid cultivation of oil palm in highly alkaline soils.
Propagation Methods
Oil palms are propagated through seeds, the seeds are made to undergo pre-heat treatment for 75 days at a temperature of 40 degree centigrade, the seeds are then soaked in cool water for 3-4 days. The seeds start germinating in 10-12 days, the sprouts are then placed in poly bags , frequent irrigation should be provided for growth and development of the seedlings.
Transplanting to Main Field
Oil palm seeds should be planted between June and December. Healthy seedlings with 12 to 15 months old, 1 meter height and 12-13 functional leaves are recommended for planting in the main field, planting should be done in pits with a depth of 60 cm × 60 cm × 60 cm.
Intercropping In Oil Palm
Intercropping is favorable in oil palm cultivation for initial three years but care should be taken that the intercrop does not compete with oil palm plants for food and nutrition. The best suited intercrops for oil palm include banana, ginger, pineapple, turmeric and other fruit and vegetable crops.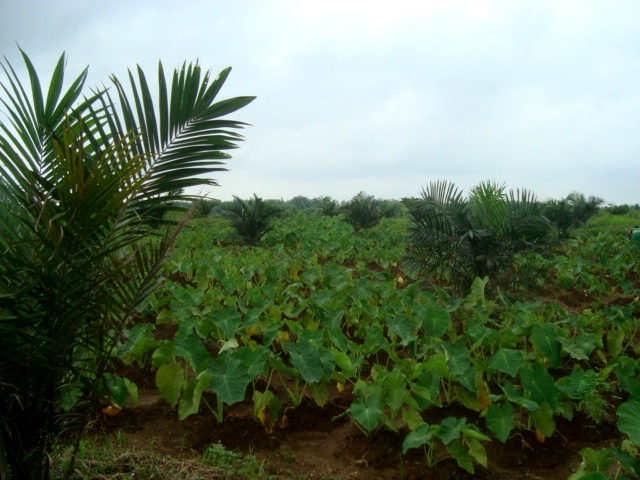 Intercropping in Oil Palm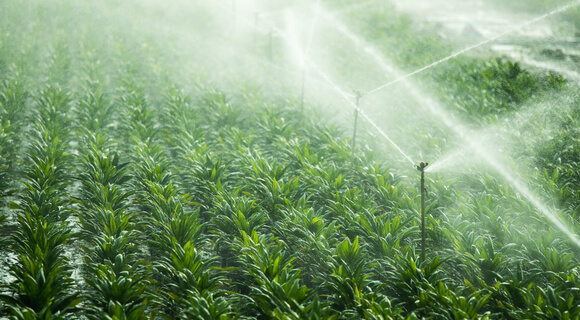 Irrigation in Oil Palm
Irrigation In Oil Palm
Oil palm requires heavy irrigation hence, it is not recommended to cultivate oil palm in areas with improper irrigation facilities, generally 220 liters of water is sufficient per plant in the initial stage, older palms may require higher amounts of water, Oil palm is irrigated through drip and basin irrigation methods.
Pollination In Oil Palm
Oil palm is a cross pollinated crop and requires wind and insects for pollination, weevils mostly assist pollination in oil palm plants for effective pollination the weevils are released three years after planting.
Weeding In Oil Palm
Regular weeding is always essential and chemical weedicides like Paraquat 5-6 ml per liter of water is usually recommended.
Ablation (Removal of Male and Female Inflorescence)
It is always recommended to remove male and female flowers in the initial stages of plant growth, the inflorescence starts 14 months after planting and id continued till 28 months, it is necessary to divert the nutrients from inflorescence towards vegetative growth and the flowers hanging in clusters may be prone to attack to many diseases and pest.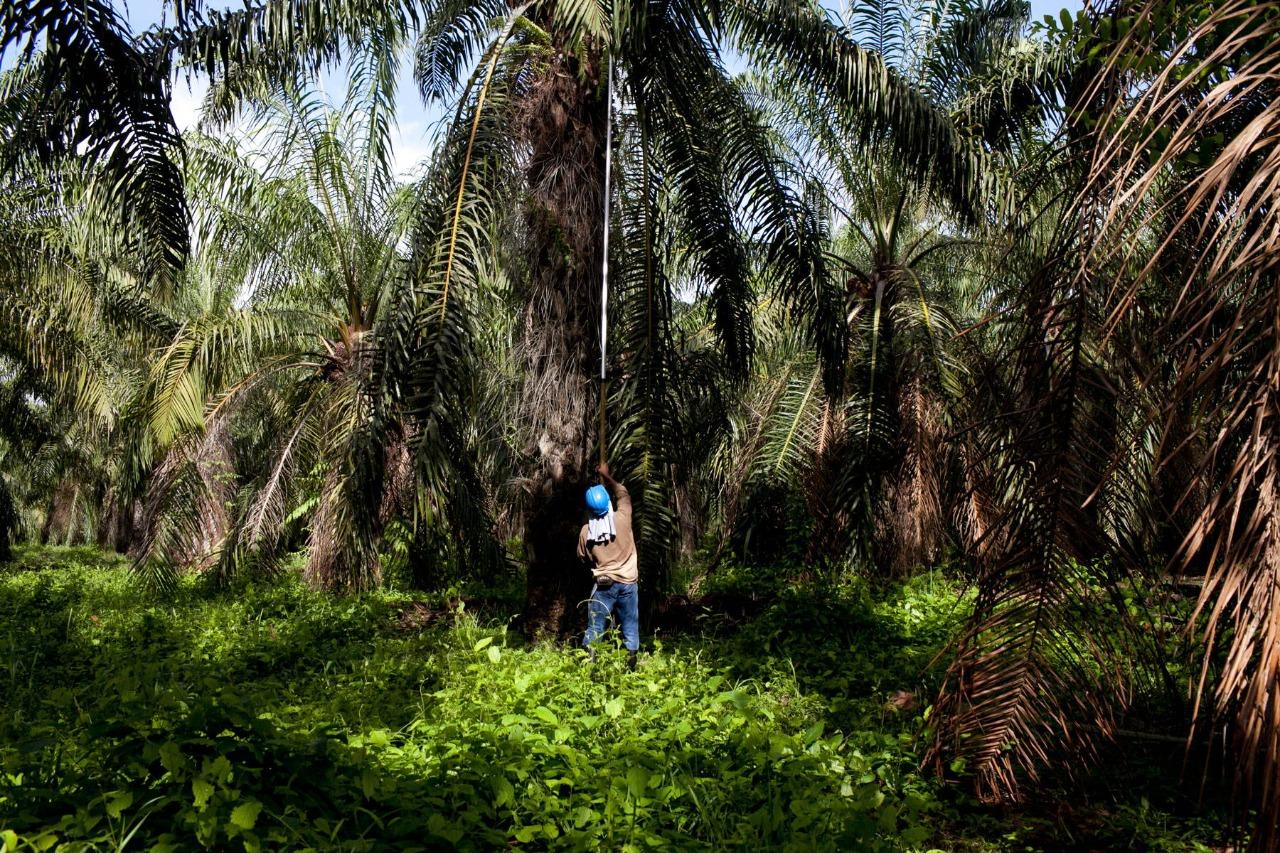 Ablation in Oil Palm
Basin Management
Basins of 1 meter, 2 meter and 3 meters are made around the tree trunk in the first , second and third year respectively, to avoid soil accumulation near the collar region and development of healthy roots.
Manures and Fertilizers
Oil palm requires an adequate amount of fertilizers for its growth and development. Nitrogen, phosphorus and potassium is apple in three split doses, It is always recommended to apply quality fertilizers every three months. However, the first dose of fertilizer is applied three months after planting, it is always recommended to irrigate after applying the best fertilizers.
Oil Palm Pests and Diseases
Rhinoceros beetle, Ganoderma butt rot, Oil palm wilt and mealybugs are some of the most common pests and diseases of oil palm. Following appropriate biological and chemical control methods would effectively help in eliminating the pests and diseases. Follow Jai Ho Kisan For more information on control measures of various crops.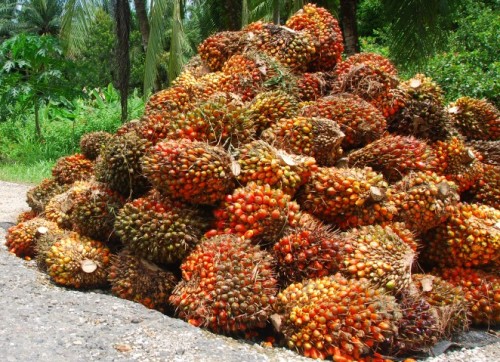 Harvesting in Oil Palm
Harvesting In Oil Palm
The oil palms are ready for harvest within 2-3 years after planting. The quality and quantity of oil always depends upon the harvesting time, the perfect maturity index for oil palm is when the fruit turns yellow and orange coloured oil spilling out when the fruit is pressed. Harvest is obtained for every 15 days interval throughout the year. It is always recommended to retain a stalk of 5 cm length to the fruit bunch.
Yield In Oil Palm
Oil palm yields 10- 12 tons per hectare in initial stages whereas more than 18 tons per hectare after 8 years of planting.
Government to provide up to 50% subsidy to farmers to promote oil palm cultivation. Oil palm can be grown as an alternative crop to paddy. A subsidy of Rs. 26000 per acre in the first year and Rs. 5000 per acre in second and third year is approved to be provided by the government to oil palm growers. Download Jai Ho Kisan App for more information on subsidies and schemes provided by the government.